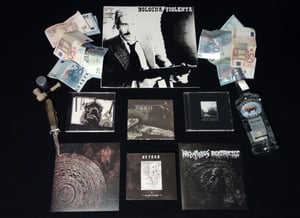 €

45.00
Hello!
From now on we offer a special bundle including all the Hypershape Records releases currently available. The special bundle is constantly updated when new records are available and includes also a couple rarities "from the vault", and features:
- Nate Hall "The Center Of The Earth" digipack box CD
- Uktena "Our Path To Trouble" digipack box CD
- Bologna Violenta "Bologna Violenta" 12" LP
- Agathocles VS. Haemophagus 7" split EP
- Viscera/// VS. Self-Human Combustion split CD
- The Great Saunites "Delay Jesus '68" CD
- The Great Saunites "Nero" digipack CD
- The Drop Machine / Quiet In The Cave split CD
*we have to update the current picture, read carefully the items listed above.
Everything included on a very special price of 45€
Don't miss this and be part of the HPS family.